Richmond HVAC Zoning Services
Comfort Leaders in Central Virginia and Beyond
Keeping your home comfortable is a matter of personal preference, and that's why the team at Blazer Heating, Air, and Plumbing is committed to offering our customers the products and services you need to make your homes comfortable and safe. Many of the newest heating and cooling products on the market are designed to give home and business owners greater flexibility over their temperature control systems at an affordable price. You may not think your home could benefit from HVAC zoning, but almost every home is a good candidate for this easy-to-install efficiency upgrade. Zoning makes it possible for your HVAC system to provide multiple temperature requests in specified areas of your home. Upgrading your HVAC system to a zoned system is easy and convenient in Richmond and surrounding communities.
Call Blazer Heating, Air, and Plumbing at (804) 277-2458 to schedule an appointment or if you have any questions about HVAC zoning services.

With Trane's innovative ComfortLink™ II Zoning System, you'll be able to direct more heated or cooled air where it is needed - and less where it isn't. Room by room or zone by zone, you will enjoy steady precise comfort on demand. Call Blazer to learn more about Trane's zoning system.
And the number one thing that I felt was just comfortable. I felt relaxed, I felt at ease.

- Tripp

It's been amazing. It's not even a company that we use. We consider Blazer a part of the family.

- Tonya

They're extremely friendly. Not Just knowledgeable, but just so personable.

- Gina & Tim

The customer experience you get through Blazer is what everyone wants in Richmond.

- Chris
Financing Options

Customer Satisfaction 100% Guaranteed

Licensed & Insured Technicians

Emergency Services Available 24/7

NATE Certified HVAC Company

Serving The Community Since 1989
Benefits of Upgrading to a Zoned HVAC systems
Did you know that zoned HVAC systems with programmed thermostats can save you over 30% in energy spending? HVAC zoning has grown in popularity as more households and businesses have seen the cost savings, efficiency, and flexibility enjoyed from zoned systems. HVAC zoning is a great way to save money and increase your home's efficiency. In addition to the savings, homeowners find everyone is more comfortable in a house with zoned temperature controls.
There are many benefits to zoning your HVAC system, especially if your home matches any of these characteristics:
Two or more stories
Vaulted ceilings or large open floor plan rooms
Occupied or finished attic or basement space
Occupants with a wide range of temperature needs in multiple areas
Larger home with multiple wings or added on spaces
Big windows or rooms with heavy sun exposure

If any of these sounds like your Richmond home, you could improve your home's energy efficiency and comfort. When an HVAC system is zoned, it can serve the needs of multiple areas without increasing energy usage. Zoned systems can also provide greater energy efficiency for larger homes with oversized windows and multiple stories. It can be more challenging to control the temperature of a larger home. Often, larger homes with multiple levels will find that the downstairs areas are cold on hot days, and because warm air rises, the upstairs rooms are still warm. A zoned system can fix this problem by directing additional cooling to the areas that need it most. With many of the leading zoning systems, homeowners can move from one temperature-controlled zone to four! By creating additional heated or cooled zones, property owners no longer have to overheat or freeze out one area of the home to compensate for the difficulty of balancing the temperature in another part of the home.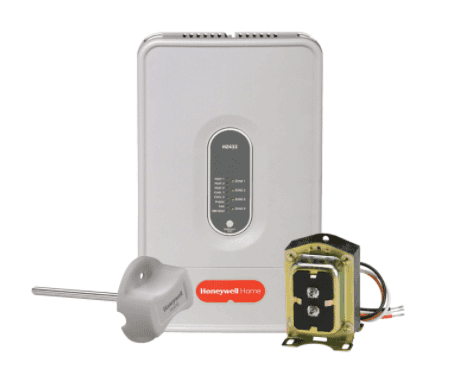 TRUEZONE® HZ432 PANEL KIT
The TrueZONE® HZ432 is a 4 zone panel that can be used to control conventional, heat pump, or dual fuel applications up to 3H/2C. It features robust push terminals, common-sense LEDs, variable-speed fan control, and has a small footprint for mounting flexibility.
Easy HVAC Zoning System Installation
Installing an HVAC zoning system has never been easier or more convenient than when working with the HVAC professionals from Blazer Heating, Air, and Plumbing. Our teams of experienced technicians have thousands of hours on the job. In most cases, we can retrofit your current system to meet the requirements of a zoned system; however, if you plan to upgrade to a more energy-efficient HVAC system, we can help you choose the perfect unit for your home. Our HVAC zoning experts have experience designing systems that deliver the results customers want.
A zoned HVAC system is an easy and energy-efficient upgrade to your Richmond home. Call Blazer Heating, Air, and Plumbing at (804) 277-2458 to schedule an appointment today!
Ready to Get Started?
Contact our team and find out how we can keep your home working efficiently and effectively!