Using Geothermal Energy in Richmond
Serving Customers in Mechanicsville & Throughout Virginia
Geothermal heat pumps are a great way to heat and cool your home while saving money. This solution uses shallow ground to cool and heat your home instead of the outside air. This air is not only clean, but sustainable and cost-effective. By using the consistent temperature of the earth (opposed to the changing temperature of the outside air), geothermal pumps can reach 300% to 600% efficiency on cold winter nights, whereas outside air pumps typically reach efficiency levels of 175% to 250%.
At Blazer Heating, Air, and Plumbing, our Richmond air conditioning and heating services are aimed at saving customers like you time and money. Additionally, our team is A+ rated by the Better Business Bureau (BBB) and committed to the highest level of customer care and satisfaction. That's why all of our services are 100% guaranteed, so you can have confidence Blazer Heating, Air, and Plumbing will get the job done right every time.
Call our office 24/7 at (804) 277-2458 to see how you could increase the comfort and efficiency of your home with a geothermal heat pump system from our Richmond technicians.
Benefits of Geothermal Heat Pumps
Geothermal pumps are a comprehensive solution that can be used to heat or cool your home.
Some major benefits include:
Long-term cost efficiency and savings.
Decreased reliance on fossil fuels (oil.)
Zero pollution, which is better for the environment.
Direct and sustainable source of heating and cooling.
We are a Geothermal Master Pro Dealer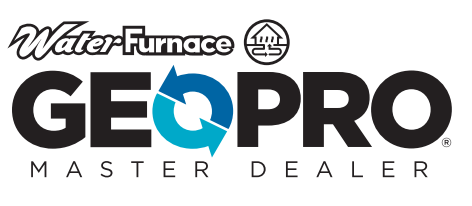 Our team has the the experience and training needed to be a WaterFurnance GeoPro Master Dealer. To learn more, click HERE
And the number one thing that I felt was just comfortable. I felt relaxed, I felt at ease.

- Tripp

It's been amazing. It's not even a company that we use. We consider Blazer a part of the family.

- Tonya

They're extremely friendly. Not Just knowledgeable, but just so personable.

- Gina & Tim

The customer experience you get through Blazer is what everyone wants in Richmond.

- Chris
Financing Options

Customer Satisfaction 100% Guaranteed

Licensed & Insured Technicians

Emergency Services Available 24/7

NATE Certified HVAC Company

Serving The Community Since 1989
Our Richmond heating and cooling team offers free estimates on both replacements and second opinions. At Blazer Heating, Air, and Plumbing, customers are our priority. Since we're backed by more than 30 years of experience in the HVAC industry, we only hire highly-qualified technicians to get the job done.
Learn more about our geothermal installation and maintenance services by connecting with us online or calling (804) 277-2458 now to speak with a member of our RIchmond heating and air team.
Ready to Get Started?
Contact our team and find out how we can keep your home working efficiently and effectively!