Richmond Humidifier & Dehumidifier Services
Delivering Comfort to Homes Across Central Virginia
If your home feels stuffy and uncomfortable, the problem may not be your HVAC system. When it comes to indoor comfort, temperature control has more variables than just hot and cold. During the summertime, the daily temperature can reach the 90s with 90% humidity. It can become impossible to make your house comfortable if the moisture levels aren't controlled inside your home. The humidity level in your home should stay between 40-60% based on your preference, and when it's not regulated, it can have adverse effects on your health and comfort. At Blazer Heating, Air, and Plumbing, our specialists are experts at tackling humidity control issues. We can help you choose the perfect product for your home or office. Some whole-house humidifiers and dehumidifiers can be installed inside your HVAC system to create seamless integration. If you're having trouble managing your home's humidity levels, contact the Richmond humidifier and dehumidifier specialists from Blazer Heating, Air, and Plumbing. We are trained and licensed professionals with a long-standing track record for customer service excellence.
Call Blazer Heating, Air, and Plumbing today at (804) 277-2458 to schedule an appointment or for more information about our Richmond humidifier and dehumidifier services.
Signs Your Home Needs Humidity Management
For a home to feel comfortable and healthy, professionals suggest that indoor humidity levels should be maintained between 40-60%. An upgraded smart thermostat can track humidity levels and alert you when it's not in the appropriate range. If your thermostat is not equipped with humidity tracking capability, you can monitor your home for these signs of humidity imbalance.
The humidity levels in your home may be too low if:
You've experienced recurrent nosebleeds
Your lips are cracked and dry
Your skin, eyes, nose, and throat are Itchy and dry
You've had a continuous and persistent cold or flu with upper respiratory symptoms
You've noticed warped and damaged wooden furniture and floors
The humidity levels in your home may be too high if:
You've noticed mold growth
Your windows are foggy or damp with condensation
Your home is stuffy or musty
There are water damage or stains on walls or ceilings
Your wooden surfaces are beginning to decompose
Your allergies are worse than usual
And the number one thing that I felt was just comfortable. I felt relaxed, I felt at ease.

- Tripp

It's been amazing. It's not even a company that we use. We consider Blazer a part of the family.

- Tonya

They're extremely friendly. Not Just knowledgeable, but just so personable.

- Gina & Tim

The customer experience you get through Blazer is what everyone wants in Richmond.

- Chris
Financing Options

Customer Satisfaction 100% Guaranteed

Licensed & Insured Technicians

Emergency Services Available 24/7

NATE Certified HVAC Company

Serving The Community Since 1989
How a Whole-Home Humidifier or Dehumidifier Works
If your home shows signs of humidity problems, a whole-home humidifier or dehumidifier installed in your air duct can improve the indoor air quality of your home. You will also notice your home is healthier and more comfortable. An in-duct humidifier or dehumidifier systems manage indoor humidity imbalances better than stand-alone units, which are not as efficient. Whole-home dehumidifiers and humidifiers work by treating the humidity in your air while your HVAC system is working. By working in concert, in-duct systems are better able to manage your home's humidity levels.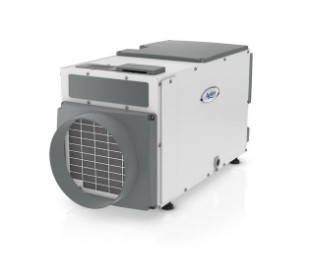 Aprilaire Dehumidifier - Model 1830
The Aprilaire Model 1830 Dehumidifier is designed for smaller homes, townhomes, condominiums and crawlspace applications. This Dehumidifier is ideal for dehumidifying your basement or sealed crawl space removing up to 9 gallons (70 pints) of water per day.
Aprilaire Dehumidifier - Model 1850
The Aprilaire 1850 Dehumidifier is ideal for dehumidifying your whole home removing up to 95 pints (11.9 gallons) of water per day. For your convenience, it can be ducted to your HVAC system, and the control panel can be mounted on the top or side of the unit so it is easy to access in any location. The dehumidifier has a simple to use interactive display making set-up and use a breeze. The Aprilaire 1850 is low maintenance with no messy trays to empty, and simple once a year filter cleaning or replacement.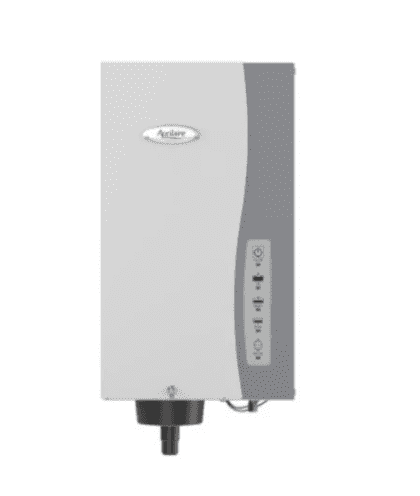 Aprilaire 800 - Steam Humidifier
Aprilaire Model 800 steam humidifiers use electrode technology and are simple to install, operate, and maintain. With electrode technology, electrical current flows between submerged electrodes, resistance of the water to the electric current heats the water. The submerged electrodes are found in a replaceable canister. At the end of a humidifier season, the canister – including the electrodes, is replaced. No cleaning, no scrubbing, simply replace the canister and you're ready for the next humidifier season. Electrode technology requires impurities in the water to promote the transfer of electricity. For this reason, water filtration is not required with electrode technology, minimizing the complexity of the installation and ongoing operating costs.
The Blazer Heating, Air, and Plumbing Difference
When customers choose Blazer Heating, Air, and Plumbing, they benefit from our commitment to innovation and elite customer service. We know there are many choices for humidifier and dehumidifier services in the market, so we want to make sure our customers know how much we appreciate their business. Plus, customers can feel confident their new humidifier and dehumidifier system is top quality when working with our team. We only work with the best products, and our technicians are among the best trained in the area. We are a full-service HVAC system provider, so we can install your in-duct dehumidifier and humidifier appliances and make any necessary repairs. We won't install your system and leave you without solutions in the future. So, don't hesitate to call the professionals from Blazer Heating, Air, and Plumbing; we are ready to help you control your home's humidity levels starting today.
Call Blazer Heating, Air, and Plumbing today at (804) 277-2458 to schedule an appointment for humidifier and dehumidifier services in Richmond.
Ready to Get Started?
Contact our team and find out how we can keep your home working efficiently and effectively!