Richmond Air Scrubbers
Enjoy Cleaner Air in Your Home, Call Blazer Heating, Air, and Plumbing Today
Are you concerned about floating microbes in your air like bacteria, mold, and even viruses? These types of microbes are generally so small that even a fine air filter can't stop them. The holes in most filters are generally too large to contain the overwhelming majority of organisms, and that means your air may not be as clean as you think, even with a clean air filter. For help with the important step of disinfecting the air in your home, we recommend an air scrubber system, such as the Air Scrubber by Aerus, one of the leading names in indoor air quality technology. These systems use state-of-the-art technology and can be installed easily into virtually any HVAC system, making them an outstanding investment for nearly any homeowner.
Blazer Heating, Air, and Plumbing is proud to offer the Air Scrubber by Aerus, including installation, repair, and maintenance services for this system. We have always strived to offer premium-quality equipment for our customers, including systems we would trust in our own homes. Our workmanship is top-notch, and we make sure every unit we install is capable of providing our customers with the peace of mind and purified air they are looking for. Plus we always focus on our customer service for your total and complete satisfaction.
Learn more about our Richmond air scrubber services by contacting Blazer Heating, Air, and Plumbing at (804) 277-2458 today.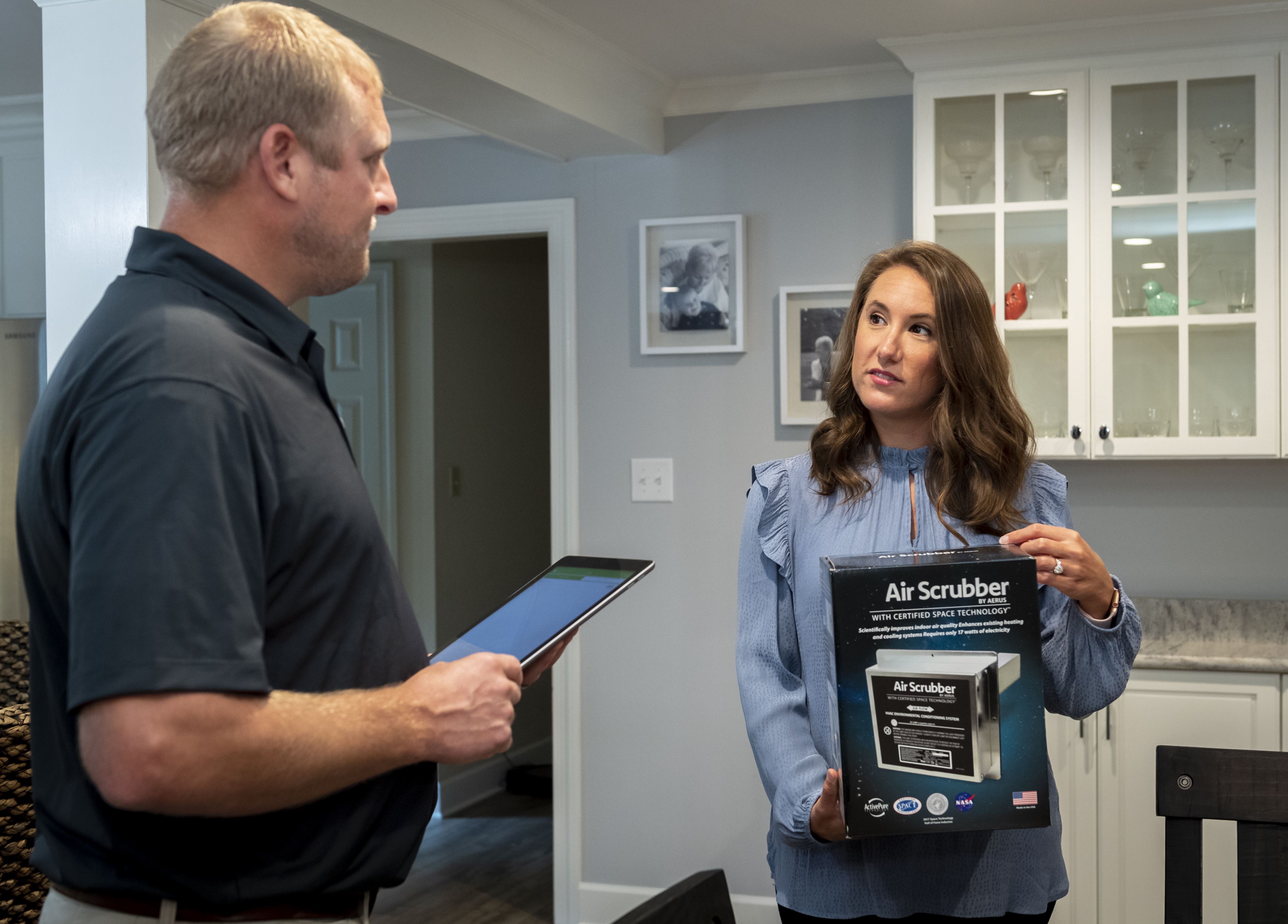 When you think of the idea of "scrubbing" something, the first thing that comes to your mind might be cleaning dishes or floors using a scrub brush. Instead of using a scrubbing brush, these systems use a type of particularly harsh light that purifies the air by neutralizing microbe organisms. Ultraviolet light, or UV light for short, is nature's purifier, and is the reason why viruses and bacteria generally cannot survive outdoors. However, unlike pure sunlight, a UV air scrubber concentrates the UV radiation to increased intensity, and likewise filters it so that it isn't harmful to you or anyone in your home.
So what exactly is an air scrubber? It's a specialized lamp that is mounted inside your HVAC system, either directly before or after your indoor cooling coil. When air passes over this light, anything still in it receives a huge blast of UV radiation from this lamp. For microscopic organisms like bacteria, this either kills them instantly, or renders them inert by scrambling their DNA, preventing them from reproducing and spreading. In turn, this cleans and sanitizes the air in your home, keeping you and your loved ones safe.
And the number one thing that I felt was just comfortable. I felt relaxed, I felt at ease.

- Tripp

It's been amazing. It's not even a company that we use. We consider Blazer a part of the family.

- Tonya

They're extremely friendly. Not Just knowledgeable, but just so personable.

- Gina & Tim

The customer experience you get through Blazer is what everyone wants in Richmond.

- Chris
Financing Options

Customer Satisfaction 100% Guaranteed

Licensed & Insured Technicians

Emergency Services Available 24/7

NATE Certified HVAC Company

Serving The Community Since 1989
Do Air Scrubbers Help With Allergies?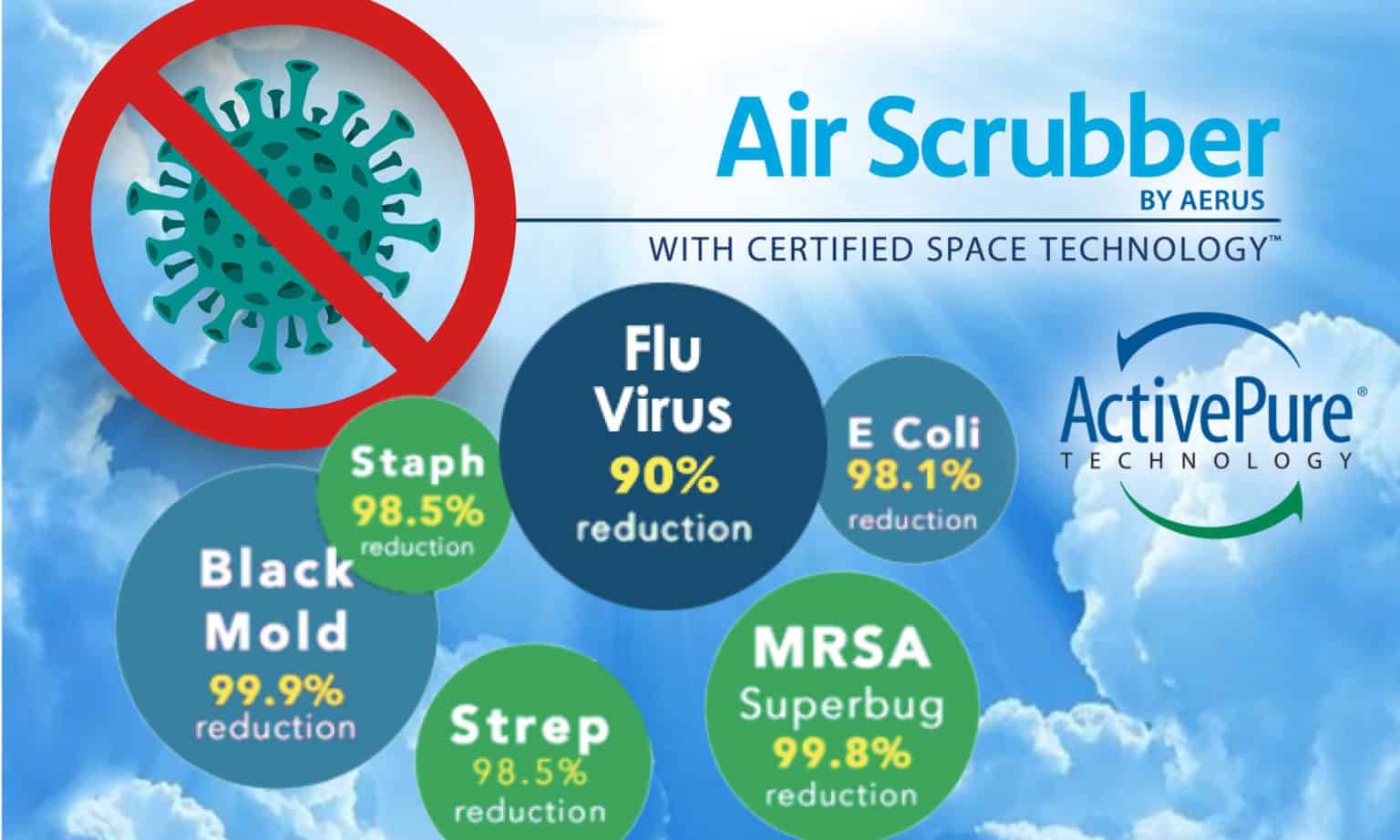 If you regularly experience allergies or asthma symptoms inside your home, an air scrubber can help alleviate your symptoms. Air Scrubbers eliminate all sorts of contaminants within the air, leaving your indoor air clean and comfortable to breathe.
Air scrubbers eliminate more than just bacteria; they also eliminate:
VOCs
Pet dander
Foul odors
Dust mites
Pollen particles
Mold & fungus particles
Air Scrubber Maintenance
Air scrubbers are great additions to your HVAC system because they are an extremely low-effort way of improving your air quality. They require very little additional energy, meaning they have almost no impact on your electric bill each month, and they are wired to turn on and off automatically with your HVAC system's fan. Additionally, UV scrubber lamp bulbs are built to last, and will generally work at full capacity for anywhere from one to two years before they start to lose their effectiveness. When they do, replacing the bulb is simple, and can typically be done in just a few minutes. Keeping up with this occasional maintenance will ensure your air remains clean and sanitized at all times. We offer air scrubber services and maintenance throughout Richmond and the surrounding areas.
Learn more about bringing the power of an Air Scrubber by Aerus into your home! Contact Blazer Heating, Air, and Plumbingtoday.
Ready to Get Started?
Contact our team and find out how we can keep your home working efficiently and effectively!